Amazon's Firestick is already a pretty handy little streaming device. It's portable. It's fast. And it turns your TV into an entertainment hub. There are so many best things to do with a firestick. However, if you want to unlock its true potential, consider these powerful Firestick hacks.
19 Amazon Fire Stick Hacks, Tips & Tricks
With these 19 smart hacks, you will be able to do many things. For instance, connect a Bluetooth device, browse the interwebs just like a regular computer, download whatever you want, be more secure online, never need to purchase a new Firestick remote, and many other things.
Let's take a look.
Oh, and don't forget to grab your cup of a daily coffee.
1 of 19 – Download Third-Party Apps with Downloader App
As the name suggests, Downloader lets you download any file on the internet just like a regular internet browser. Unfortunately, Fire OS's default browser, "Silk," doesn't offer this functionality, which leaves many Firestick users wondering how to download any file online. Well, Downloader is your solution, folks!
You just need a URL link of the file you wish to download. Simply enter this link in the URL field of the Downloader app and hit Go to start downloading.
Below is how you can install the Downloader app on your Firestick.
Go to the Search icon and type in Downloader.
Find Downloader and install it on your device like any other app.
2 of 19 – Control your FireStick with Amazon Fire TV App
Do you know you can control your Firestick with the help of an Amazon Fire TV app? That's right! You can even use it as a keyboard and give voice commands to control various functions. This way, it works as a replacement for your remotes in case the remote goes missing or stops functioning.
You can download the Amazon Fire TV app remote app from the official AppStore using these steps.
Open your android phone's play store.
Search for Amazon Fite TV Remote application
Locate and download on your phone.
Open the app
Tap on Set up FireTV Recast to enable this functionality.
3 of 19 – Mirror your Android/iOS Phone and Windows/Mac computer on FireStick
Do you want to display an image or perhaps a video from your smartphone to the big TV in your lounge? It's easy peasy using Firestick. All you need to do is download an app known as Air Screen on your Firestick device and start mirroring. This app allows you to mirror contents not just from your smartphone but also from Macs, iPhone, iPads, and Windows laptops/PCs. To install this app:
Go to the search option on your Firestick home page.
Type in "Air Screen" and click on the app in search results.
Click Get/Download to start the downloading process.
Open the app and on its main menu, click on the Help option to select a device you want to mirror from.
4 of 19 – Hide your IP Address for Safe and Private Streaming
In case you do not want anyone else to see what you are streaming, better get a VPN. A VPN allows you to hide your IP for private streaming. It keeps all of your internet traffic safe from prying eyes. We recommend IPVanish for this purpose. It's one of the safest VPN service providers out there. What's more, you can test out its services for 30 days and get all of your money back if unsatisfied. 
Here's how you can install Ipvanish on your Firestick
Open Ipvanish.com on your internet browser and subscribe to a suitable package.
Go to the search option and type "IPVanish."
Click on the IPVanish app and install it on your device.
Enter your login credentials and sign in.
Connect to a suitable server.
5 of 19 – Make Fire TV Stick device an entertainment media hub
If you want to cut the cord altogether, get Titanium TV, BeeTV, or any other suitable free movies and TV shows app. You can take a look at our top free movies and TV shows article find the right app for your needs. All of them are great options out there.
These apps stream HD content on your TV with very little or no buffering at all. Plus, they keep the content fresh and streaming links working. You can barely find a broken link on these apps. In order to install, you can check our installation guide for more details.
6 of 19 – Stop auto-play Amazon Prime videos on Fire TV Stick Home
Amazon runs Prime Video trailers on top of your home screen. Every time you hover over these ads, they start playing. This becomes very annoying, especially when you just want to browse the content and don't want to see any ads. There's a very simple fix through which you can easily stop the video from auto-playing itself. Here's how:
Go to the Settings option.
Then click on the Preferences box
Select Featured Content
Turn OFF the "Allow Audio AutoPlay" and "Allow Video Autoplay" options.
It will stop any audio/video ads from auto-playing.
7 of 19 – How to change the date and time on FireStick
Sure, you have smartphones and smartwatches to keep track of the day, but having the same on Firestick can be pretty useful too. If you want to enable these settings or change the date and time, here's how to proceed:
Go to the settings of your device.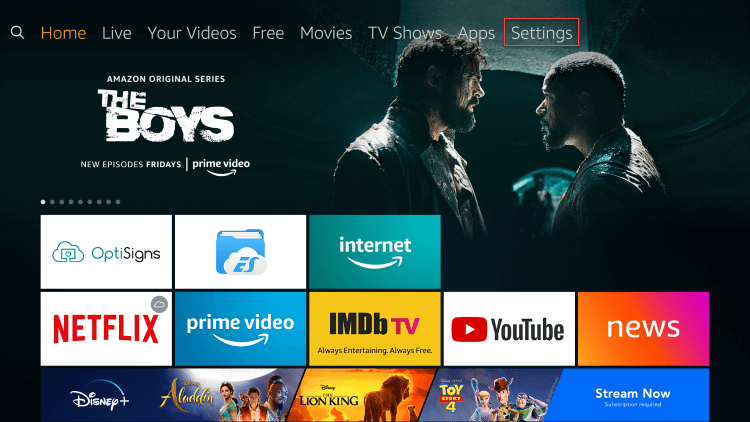 Next, find Preferences
Select a suitable TimeZone and then select your region.
This will auto-update your time and date. You can now change/update it whenever necessary from the same option.
8 of 19 – How to Turn OFF the clicking sound on Fire TV Stick
Firestick makes a clicky click sound when in use. It's not really a problem during the day when you are busy with regular routine stuff, but when you are taking a nap, the constant click sounds can be annoying. The good news is, you can easily disable the sound in settings. Follow these steps:
Go to Settings
Locate Display and Sound settings
Now, select Audio
Find Navigation Sounds and turn this setting OFF.
9 of 19 – Use a Bluetooth Device on FireStick
This is a pretty obvious hack, but many Firestick users are unaware of it. You can actually connect any Bluetooth device with Firestick to enhance its functionality. With this feature, you can connect your wireless headphone, keyboard, or even a game console if the need be.
For instance, Your annoying sibling can't stop talking while you are watching your favorite movie?
No problem!
Connect your Bluetooth headphone with Firestick and go gaga.
Again, head over to the Settings option.
Navigate to Controllers and Bluetooth Settings
Now click on the "Other Bluetooth devices" option
Add your device.
10 of 19 – Easy Jailbreaking of Fire TV Stick
Many people assume jailbreaking Firestick is a pretty big thing, just like jailbreaking a smartphone. Some websites are even earning thousands by selling jailbroken Firestick Box.
Let us clarify that once and for all, Jailbreaking firestick is as easy as pie – literally.
You just have to enable "Apps from Unknown Sources" (or a similar setting if you are using a different Fire OS). Follow the steps below for this purpose:
Go to the Settings option
Navigate to Device or My Fire TV settings
Now, Open "Developer Options"
Toggle OFF "Apps from Unknown Sources"
11 of 19 – Customize Screensaver on Fire TV Stick
Usually, Firestick showcases a screensaver after two minutes of inactivity. It just shows some random images that are already stored in the device. You can actually replace these images with your own pictures for a better experience. To do this:
Download and Install Amazon's Photos app from the play store on your mobile phone.
Sign in to the app using your Amazon account details
Now click on the Backup Photos and Videos option (You can store up to 5GB of data here)
Then, open the Amazon Photos application on your Firestick device.
Go to Folders. (It will be on the top menu of the app)
Here you will find your Pictures.
Tap on any of the pictures you like and press the menu button on your remote (button with three horizontal lines)
Finally, select the option that says "Set as Screensaver."
12 of 19 – Add a USB Port to your FireStick Device
Do you want to connect a USB or an HDD for more storage to Firestick?
Firestick has a little plug on its hardware for power. With either a cable or an adapter, you can attach a USB, SD Card, or HDD with it. The best thing about this configuration is that there are no additional wires to take care of. Simply attach your USB or HDD and access its files via the ES File Explorer app.
This app is available on the official Amazon AppStore.
13 of 19 – Check how much storage you have left on FireStick
Firestick's storage is pretty limited.
Knowing how much you have left of it can be useful, especially if you install many apps on it on a regular basis. You can also remove old unused apps to clear up some space. But that is only possible if you know how much of the storage is left for use. This hack helps you know just that.
On the settings option, go to My Fire TV.
Now, click on the About option and select Storage.
On the right-hand side of the screen, you will see the usage.
14 of 19 – Use 'Magnifier' to enlarge pictures or words
If you think some words on display are too small in size, or perhaps you want to enlarge a specific part of a picture, you need a magnifier. Firestick comes with a built-in magnifier feature that comes pretty handy in such situations. You can access Firestick's magnifier by following these steps:
Go to the Settings
Then go to the Accessibility option.
On the Screen Magnifier option, click it to Turn ON.
You will see a set of instructions about how to zoom in/out.
15 of 19 – Closeout the apps you are using
Normally, when you need to close a particular app, what do you do? Click the Home button on your remote like most other people? If that's the case, you need to know that you are not closing the app. You are merely pushing it to the background. It will keep running and consuming your resources, even slowing down your device after some time. To properly close out an app, you will need to do the following:
Go to Settings and then select Applications
Tap on the Manage Installed Applications option
Now, click on an app that you wish to close.
Select Force Stop.
16 of 19 – Browse the internet on your FireStick
Do you know you can actually browse the internet on your Firestick?
If Yes, congratulations you're a nerd. If not, here's how you can become one:
The most popular internet browser for Firestick is Silk. So we are downloading it for this tutorial:
On your device's search bar, type in Silk
Click on the Silk browser in the list of search results
Download and Install
Once downloaded, launch the browser and enjoy!
17 of 19 – Run Updates for your FireStick
Amazon updates its software on a regular basis. Most of the time, new updates come with bug fixes and critical security fixtures. Therefore, checking whether your device is up to date is one practice you should do regularly. Below are the steps to keep your device's software up to date:
Click on the Settings option.
Then go to My Fire TV.
Now, choose About
Click on Check for Updates
If you see a message that says, "Your Fire TV is up to date," then there's no need for an update. Otherwise, you will see the current version of your software and whether it needs an update. Proceed accordingly.
18 of 19 – Check if your FireStick Remote batteries are dying
No one wants their remote batteries going kaput in the middle of a long binge session. Therefore, knowing what's the health status of your batteries is a great practice. Follow these steps to check if your remote batteries are dying and whether you need to get a replacement ready.
Go to Settings
Tap on the Controllers and Bluetooth Devices option
Then select Amazon Fire TV Remotes.
On the right-hand side of the screen, you can see the current battery strength of your remote.
19 of 19 – Prevent Amazon from tracking your Activity
Like Google, Amazon is pretty notorious for tracking user activity. Even if you are using a VPN, Amazon constantly tracks your activity. That is unless you turn OFF a few simple features in its privacy settings. Here's how to protect yourself:
Go to Settings and click on the Preferences option.
Now go to the Privacy settings.
Here, you need to turn OFF three settings. These are: Device Usage Data, Collect App Usage Data, and Interest-Based Ads
Key Takeaways
That's pretty much all about Firestick hacks.
Now you have turned your device into a much more powerful version of itself. Let us know in the usual place which Firestick hack you found most useful. And of course, don't forget to share any hack that we may have missed.
We would love to include it in our article. Thank you for reading.